DISCLAIMER: Klipfolio does not officially support, endorse, recommend, represent, or warrant any of the 3rd party products and services mentioned in this article.
Projecting your business dashboard onto a large TV or digital wallboard is one of the most valuable and powerful use cases of Klipfolio. Klipfolio supports full-screen (TV) mode enabling you to play your dashboards in full screen mode on a rotating and timed schedule.  
To help you explore and realize more powerful and flexible options for digital displays, we are providing this article as an example of how you can display dashboards on wallboards using Rise Vision.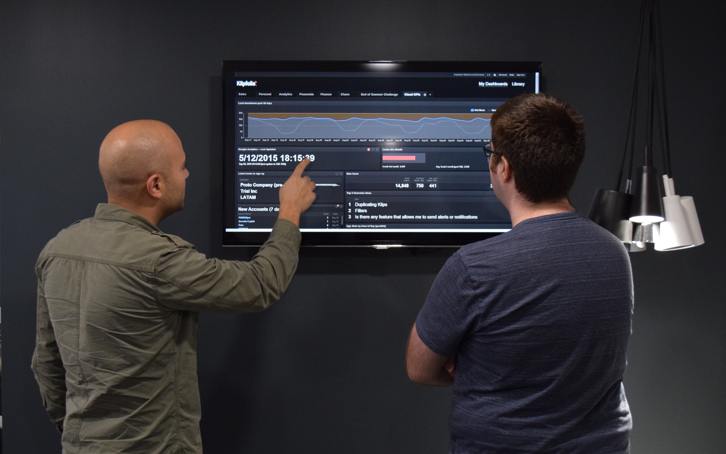 The big picture
There are a number of options available, however, this article only describes an integration with Rise Vision using the parts as listed below. Using the Klipfolio Publish Dashboard Link (URL) feature and Rise Vision, you can push and manage these links to your wallboards. What sets Rise Vision apart from other similar services, is that it enables you to remotely manage the TVs and schedule and coordinate many dashboards on multiple displays.  
Recommended parts list:
Klipfolio Dashboard Service (and Published Links feature)

40 inch (or larger) display

High-end USB stick with a minimum of 4 GB RAM

A Rise Vision Digital Signage Management Software account
Step by step setup:
Create a Klipfolio dashboard.

Publish a Klipfolio Published Link (you will use this URL to send the dashboard to your display). For more information on how to do this, see this help

article

.

Set up the computer stick with your preferred operating system.

Create a Rise Vision Account (

https://www.risevision.com

). Rise Vision requires a Google+ account, which is free.

Log into your Rise Vision account.

Add a Rise Vision Display (

https://apps.risevision.com/displays/add

)
Give it a meaningful name and save. Rise Vision will create a display ID. Write this down as you will need it to pair the Display and Player with your account.

Download and install the Rise Vision Player on your computing device (Windows or Linux).

You'll be prompted to enter the Display ID.  This will pair the TV, computing device, and Rise Vision Player with that ID.
Add a Rise Vision Schedule (
https://apps.risevision.com/schedules/add
).
Add a Playlist Item in your schedule.
Add the Klipfolio Published Link URL.
Save and Run Schedule.
Troubleshooting tips
Screen resolution and Rise Vision Display resolution settings need to be aligned and can be adjusted to optimize viewing experience.

Ensure the computer (compute stick) has sufficient computing and storage resources.

While you can pass a URL directly to a playlist item in a Rise Vision Schedule, you can also create a Rise Vision Presentation and schedule it.  This adds flexibility to the layout, resolution, and other content.
For more information and assistance with Rise Vision's Klipfolio integration, check out Rise Vision's community forum.